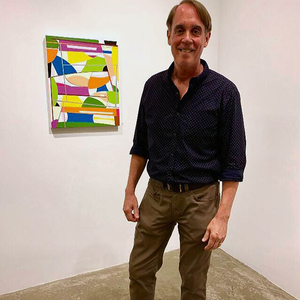 Gary Petersen was born in Staten Island, New York. He received a B.S. from The Pennsylvania State University and an M.F.A. in painting from The School of Visual Arts.

He has been awarded residency fellowships at the Bogliasco Foundation, Italy (2022), MacDowell (2017), The Sharpe-Walentas Studio Program (2010-2011) and the Edward F. Albee Foundation (1988). He is a recipient of The Barnett and Annalee Newman Foundation Grant-Award (2020), The American Academy of Arts and Letters, Hassam, Speicher, Betts, and Symons Art Purchase Fund Award (2014), The New Jersey State Council on the Arts, Painting Fellowship Award for 2011, 2002,1993.

Solo exhibitions have included McKenzie Fine Art (2022, 2019, 2016), New York, Theodore:Art in Brooklyn and The Visual Arts Center of New Jersey. Recent group exhibitions have included The Jewish Museum (New York, NY), Walter Storms Galerie (Munich, Germany), Zimmerli Art Museum (New Brunswick, NJ), Pamela Salisbury Gallery (Hudson, NY) and Hollis Taggart Gallery (NY).
His work has been reviewed and covered by HyperAllergic (John Yau, 2022, 2019 & 2016), ArtNews (2015), Art in America (2012 and 2005), Two Coats of Paint, ArtCritical (David Cohen), The Philadelphia Inquirer, Knight Arts Foundation, The New Criterion, The Wall Street Journal, HaberArts, NY Arts Magazine, Whitehot Magazine, The New York Times, The Boston Globe, and The Partisan Review.

His work is in several private and public collections including the Dallas Museum of Art, The Jewish Museum (New York), The Zimmerli Art Museum, Rutgers University and The United States Department of State. He currently has a studio in Bushwick, Brooklyn and resides in Hoboken, New Jersey.